Boltswitch Capacitor Unit
Model CAP-2 capacitive trip unit provides a fail safe method of activating a 120 vac shunt trip when control voltage is not present. The unit will utilize the control voltage for tripping the shunt if available. When control voltage is lost a relay drops out discharging the capacitor to trip the shunt.
Originally designed for use with a Boltswitch Shunt Trip Operator, it may be found suitable for use with other equipment as well. It stores enough energy to operate a shunt trip coil after the loss of control power.
This device employs a full wave rectifier and a capacitor Resistors limit charge and discharge rates. During normal operation, control power is directed through the unit and charges the capacitor. Upon the loss of control power, a relay switches the output from the normal source to the capacitor. Restoration of control power resets the unit.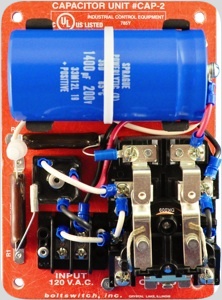 Size:
5" W x 7" H x 2.75" D
approximate net weight 1.5 Ibs
Mounting:
Hole diameter: 0.25"
Hole spacing: 4.25" W x 6.25" H
Panel thickness: 0.38"
Minimum 0.5" clearance through air required between conductors and dead metal.
Input:
120 VAC
Relay Pick-up: approximately 85 V
Relay Drop-out: approximately 72 V
Output:
Designed to operate a 120 VAC solenoid on a Shunt Trip switch or breaker with:
Max Inrush current 15 amps
Max Sealed current 10 amps
Tests:
Tested in accordance with UL 508, "Industrial Control Equipment" and UL Listed under File No. E65261.
CAUTION:
This device stores energy. The hazard of electric shock may remain with power off.
Diagrams