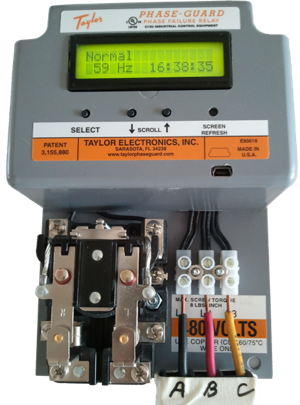 Phase Guard
The Phase Guard is a phase-voltage-balance monitoring device designed for use with magnetic controls to automatically prevent three phase motors or other equipment from operating or attempting to start up under open phase or single-phase conditions, thereby eliminating burnouts and consequent down-time frequently incurred by phase failure.
A Phase Guard will:
Extend the life of the motor.
Reduce downtime related to motor issues.
Minimize the need for expensive repairs or equipment replacement.
Features
Protection Against

: Phase Loss, Phase Unbalance, Reverse Phase, Overvoltage, and Low Voltage (undervoltage) faults.

Logging

of faults that occur for review at a later.

Digital readout

display provides information about the current condition and the ability to

browse past events

.
Desktop Admin software to

fully configure and customize

the Phase Guard for your particular needs.
Ability to

add new features

to any Phase Guard after it's been purchased from the factory. Save time and money by having units on hand and ready to be deployed with the settings and features of your choice.

Designed and built in the USA since 1936.
More information about Phase Guard